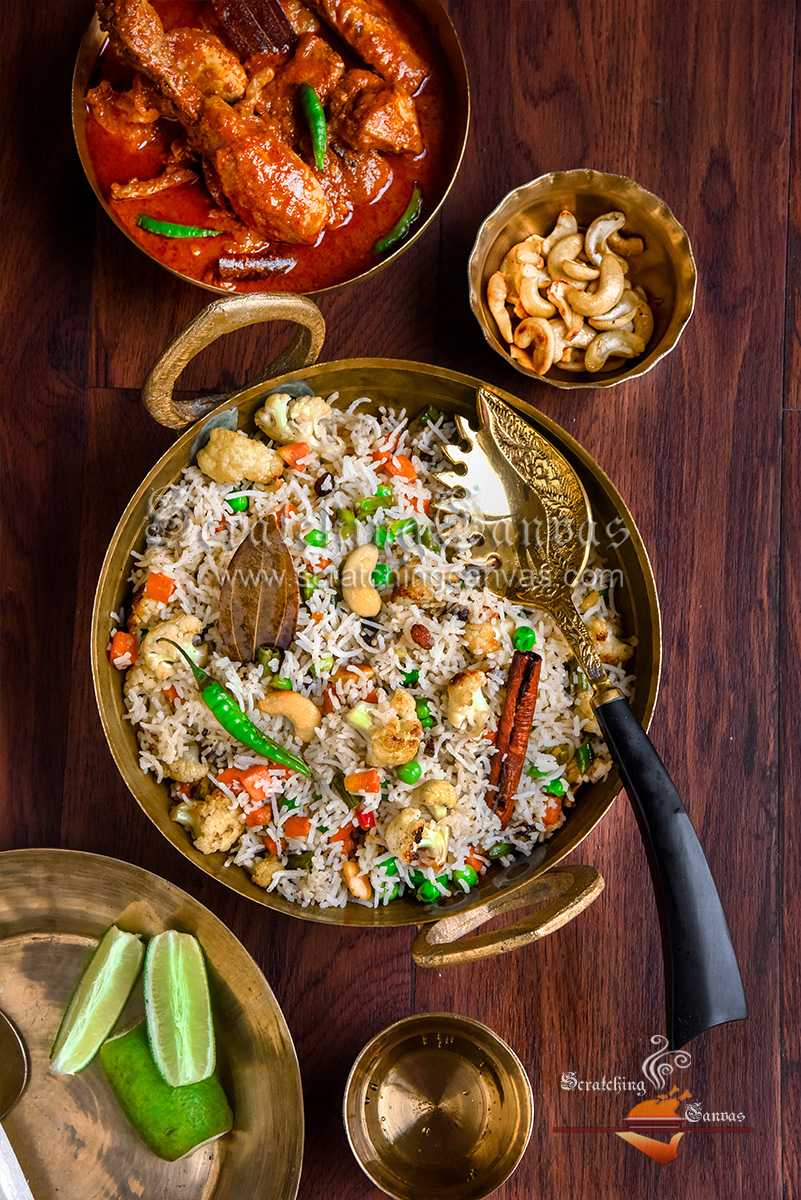 Bengali Vegetable Fried
Vegetable Pulao Or
Biye Bari style Ghee Bhat
The above three different names may confuse you but all will lead to one simple easy to cook yet delicious rice dish, Bengali Veg Polao. This particular preparation is slightly different from rest of Bengali rice items. It's mildly sweet with hint of fresh green chilli (but not hot at all) and loaded with seasonal veggies and dry fruits. Not exactly fragrant or sweet like Bengali Mishti Pulao not spicy like Fried Rice; it's a perfect balance of both two dishes with dollop of ghee. This is our beloved Bengali Ghee Bhat.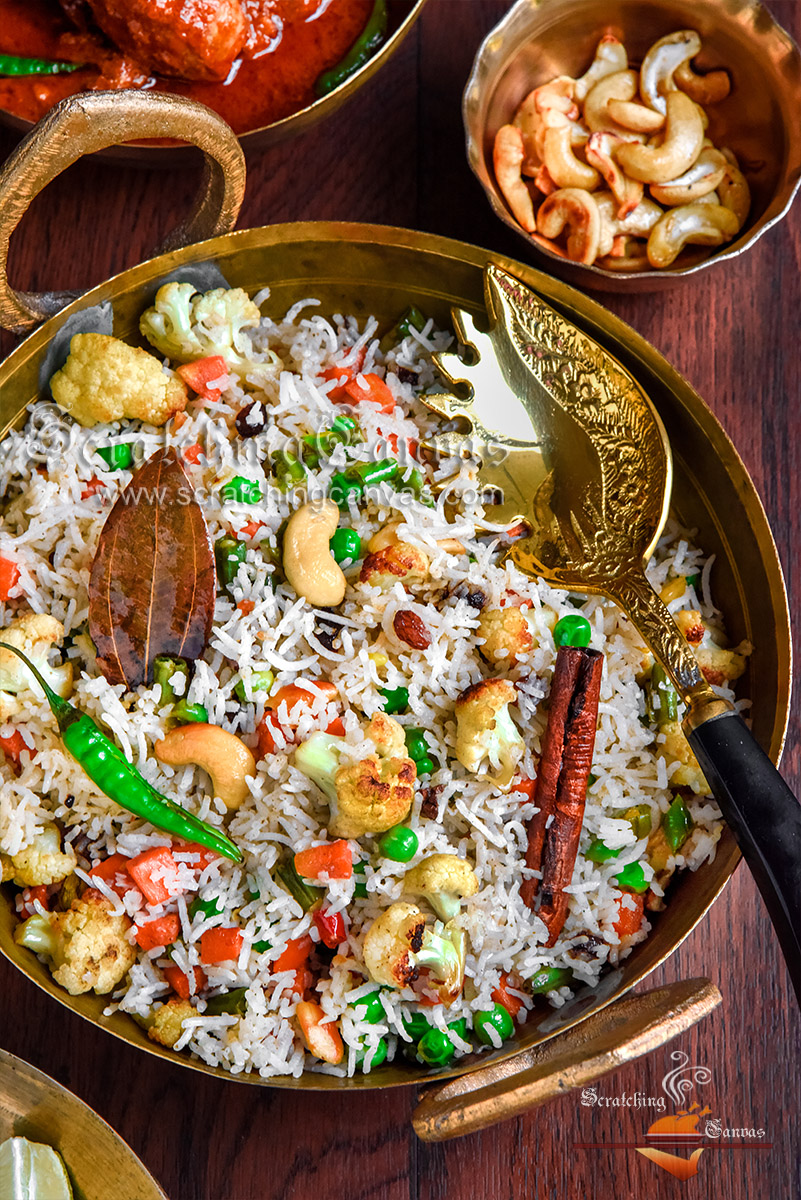 This Bengali Wedding style Ghee Bhat is cooked in ghee, just dollop of ghee is used to fry veggies and dry fruits along with rice and spice. Hence the name ghee bhat is given to this beautiful dish. Another very interesting thing about this Bengali Vegetable Pulao is it is the most popular Rice choice on any Bengali occasions. From weddings to rice ceremonies, from winter picnic, get-together to homely occasions like birthdays, anniversaries Bengali style Fried Rice will be on food menu.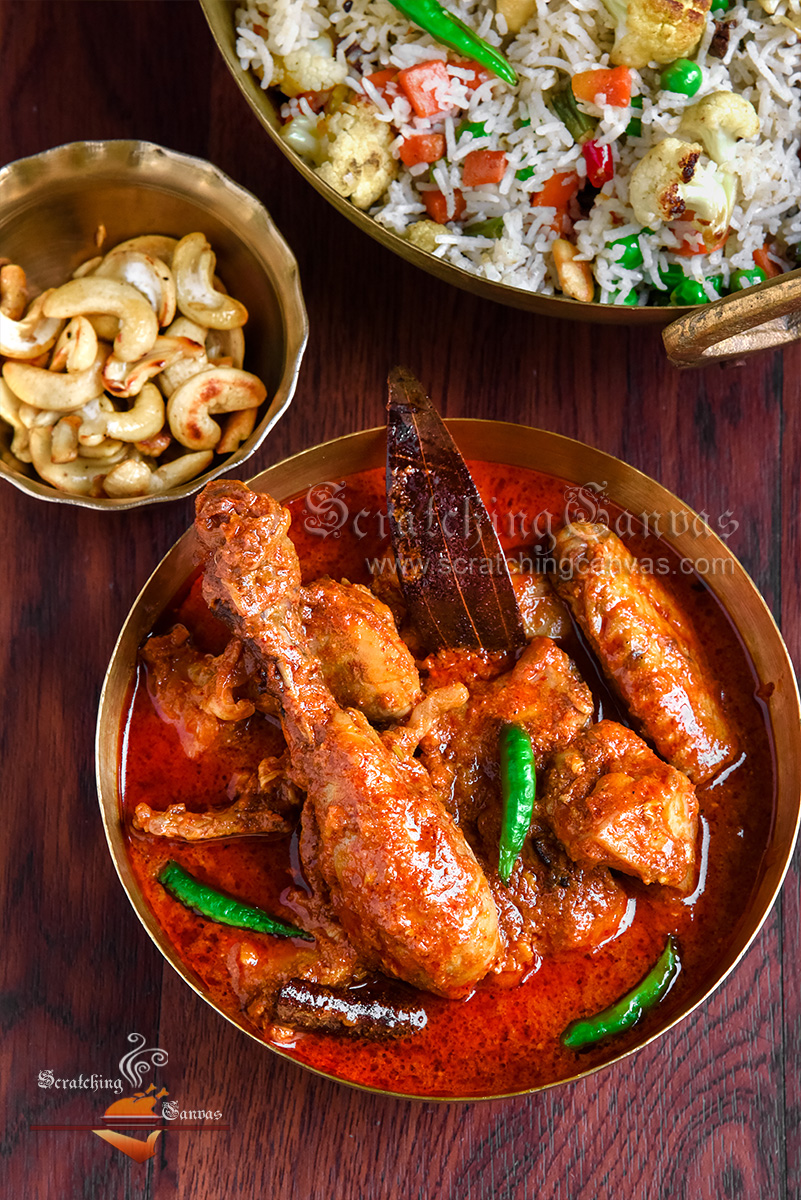 The secret of this popularity is because it's lightness and full of flavours. This rice is loaded with seasonal veggies which add freshness and different flavour to simple steamed rice and on other hand it's not fried. Minimum usage of oil & spices keeps the veggies nutritious and flavourful which makes the vegetable pulao appropriate for all age group. Ghee Bhat is tastes best with any curry, spicy, mild or slightly sweet anything tastes delicious with it.
Though Chicken or Mutton curries are mostly served with this this pure Veg Pulao any vegetarian curries pair beautifully with it. Most popular nonveg choices are Doi Murgi, Mutton Rezala, Chicken Chanp, Dim Kosha even Kolkata Chilli Chicken. For vegetarian meal Kashmiri Dum Aloo, Navratan Korma Restaurant style, Niramish Aloo'r Dom, Doi Phulkopi are fine choices.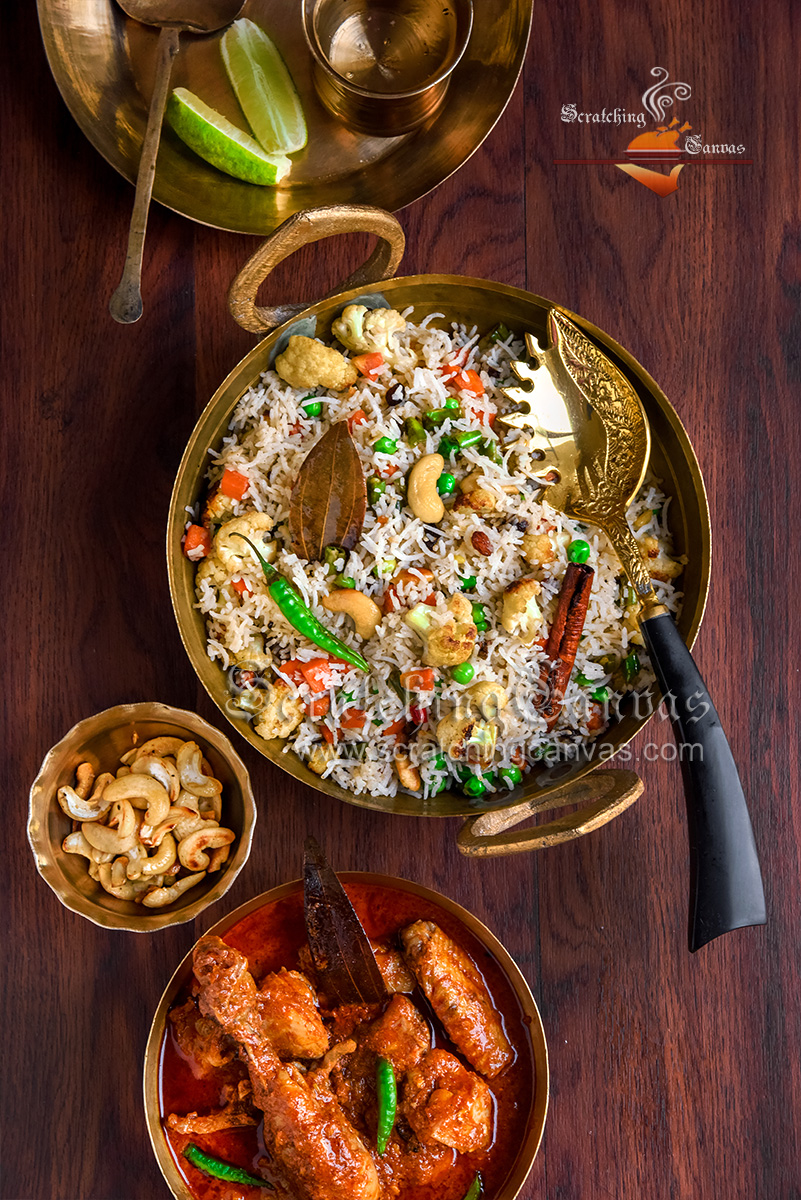 Watch detailed Video of  Vegetable Pulao or Bengali Style Fried Rice Recipe.
Read the entire recipe and Notes carefully before you start cooking. Do make sure all ingredients are at room temperature (unless mentioned) and weighed or measured correctly in appropriate weighing scale or measuring instruments such as cups or spoons. Remember these are not regular cups or spoons which is used in daily life.
SERVING & STORAGE:
Serve Vegetable Pulao or Bengali Vegetable Fried Rice hot or warm along with any rich curry Doi Murgi or Mutton Rezala or Chicken Chanp. Don't forget to add Vegetable Chop on side.
If you are looking for vegetarian option Kashmiri Dum Aloo or Navratan Korma will be the best to pair with Bengali Ghee Bhat.
Pulao doesn't taste good when cold. Store excess Polao in airtight container and refrigerate but consume within 3 days. Bring the Vegetable Polau to room temperature once refrigerated and heat for 1 min with lid on before serving. Otherwise rice & veggies will remain hard.

Bengali Vegetable Polao | Bengali Fried Rice | Ghee Bhat Bangali wedding house style
Ingredients
Basmati rice: 1 cup
Cauliflower, chopped into small florets: ½ cup
Carrot, cut into cubes: ½ cup
French beans, cut into 1" length: ½ cup
Green chilli: 3-4, chopped
Green peas: ¼ cup
Cashew nuts: 8-10
Raisin: 2 tbsp
Ghee: 2 tbsp
White oil: 1 tbsp
Spices:
Bay leaf: 2
Cinnamon stick: 2"
Green cardamom: 3-4
Cloves: 4-5
Bengali garam masala powder: 1 tsp
Pepper powder, black or white: 1 tsp
Sugar: 2 tsp
Salt: 2 tsp
Instructions
Cook rice till al dente meaning rice will be cooked almost say 90% but not completely. If one grain of rice is touched it will hold the shape but when pressed hard the same grain will be broken but not smashed.
Drain water from rice and spread rice evenly in a large sieve or flat palate. Do not cover the cooked rice otherwise it will be cooked thoroughly from the heat within.
Heat oil and 1 tbsp ghee in a large wok and fry all vegetables one by one. Season veggies with pinch of salt & sugar. Set aside once veggies are cooked.
Fry cashew nuts until golden brown in colour and keep a side with veggies.
Now add reserved 1 tbsp of ghee in the same oil (add more if needed) and heat it. Temper the oil mixture with bay leaf, cinnamon, cardamom and cloves. Allow the tempering agents to sizzle.
Add raisins and green peas and sauté for 1 min only.
Pour all fried veggies along with cashew into the pan and stir slightly.
Now switch off the flame and spread preserved cooked rice evenly over the veggies. Sprinkle chopped green chilli, pepper powder, Bengali garam masala powder along with remaining salt, sugar. Take a large ladle and mix everything in a circular motion without breaking the rice grains. Watch the video above for better understanding. Mix in light hands until everything is incorporated.
Now cover the wok with a tightly fitted lid and turn the flame on to simmer. Leave it for 15 mins on simmer untouched. After 15 mins switch off flame and keep it on stand by for another 5-6 mins.
Ghee Bhat or Kolkata Fried Rice or Bengali style Vegetable Pulao is ready to serve with any rich curry Doi Murgi or Mutton Rezala or Chicken Chanp.
Have you tried/cooked any of the recipes from my blog 
Scratching Canvas
?
If yes I would love to know your feedback and opinion. Take a picture of your food and share on Instagram with the hashtag #scratchingcanvas. Or simply drop me a message @rimleed I will share your picture and opinion as well. See you there 🙂
EAT, LOVE & ENJOY! REPEAT!!!
You may also like these Popular Bengali Rice Preparations