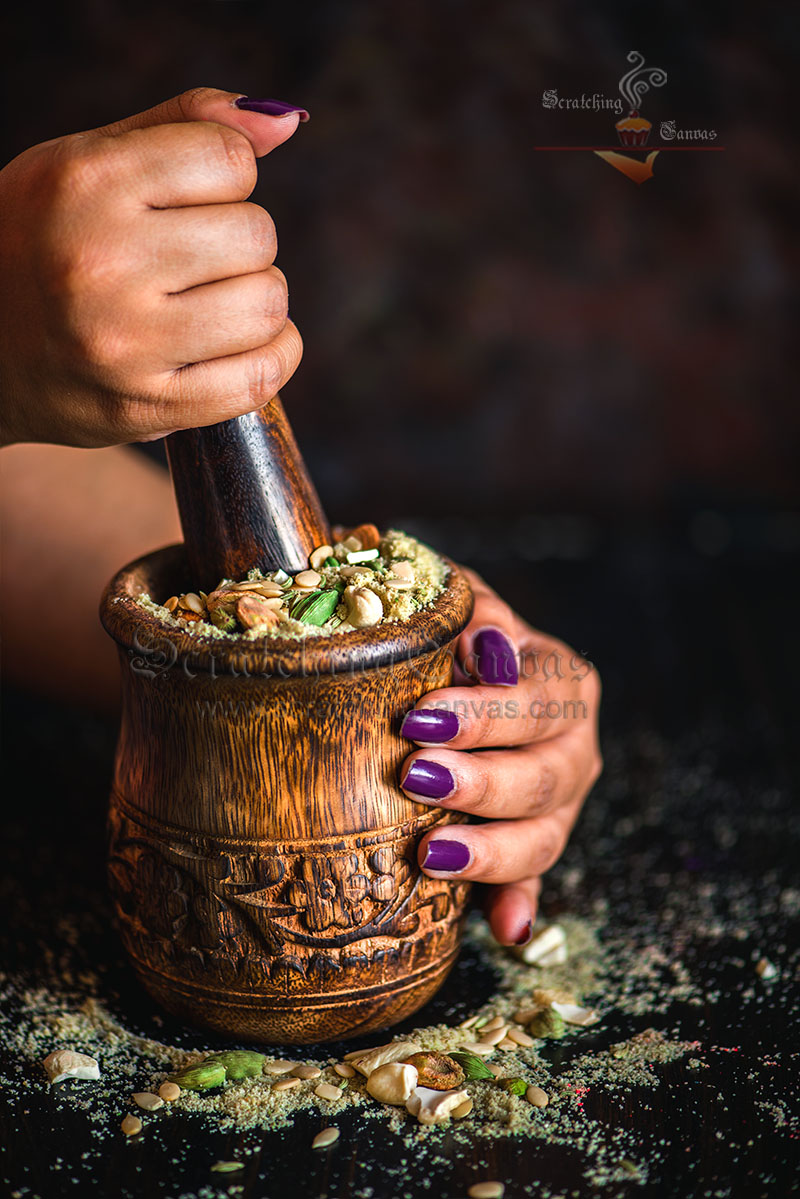 Thandai or Sardai is an Indian beverage which is an integral part of Holi, the festival of colours & Thandai Powder or Thandai Masala is a spice-nut mix to make sardai instantly. Thandai Mix is easily available at markets but have you ever checked the ingredients? Have you noticed how badly it tastes like synthetic flavours? You can make Instant Thandai at home with your own Homemade Thandai Spice Mix in a minute. It is real, healthy and fresh; far better than artificial flavours or colours or preservatives. Store bought mix may come at cheap rate but your health is precious. Try your own Thandai powder and you will never go back, I promise.
The hindi word thandai means coolant. Holi is the celebration to welcome spring officially. In India spring has more warmer tone than many other parts of the world; it feels almost like Summer. The body (and soul) needs something soothing to cope up with the rising temperature. As this drink has milk, nuts and various spices it helps to cool down the body temperature and that's why it is known as Thandai or Sardai.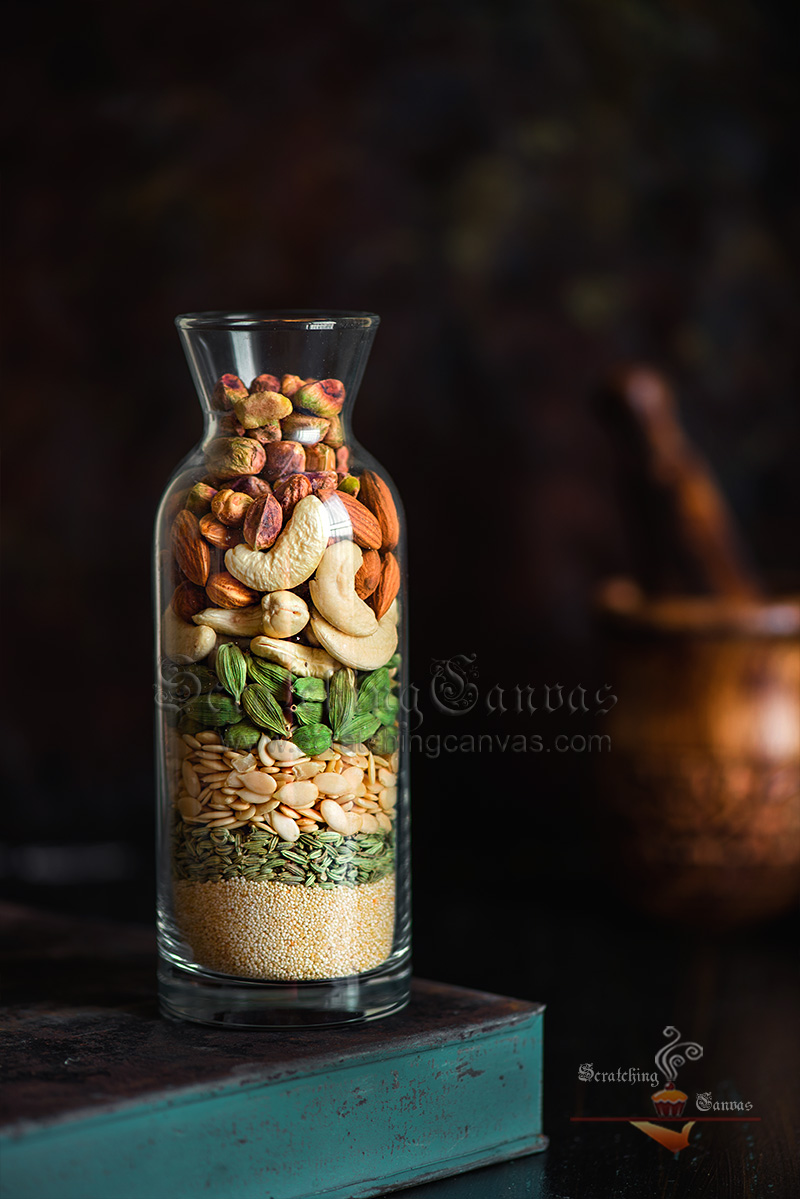 So thandai, the Indian cold drink is actually a milk based sweet drink which includes nuts, spices, herbs and high fat milk. Almonds, sugar, poppy seeds, melon seeds and spices like fennel seeds, peppers, green cardamom and saffron are mostly used. Sometimes cashew and pistachio are also mixed for extra creamy rich taste. This thandai is most popular as Bhang Thandai during Holi and Maha Shivratri celebrations in India. Bhang is edible parts of cannabis leaves and buds. In bhaang thandai edible cannabis are churned and mixed with the regular badam (almond) thandai. Often bhang is served with sugar loaded  mawa sweets as milk with high fat content and heavy dose of sugar help to accelerate the intoxication of bhang.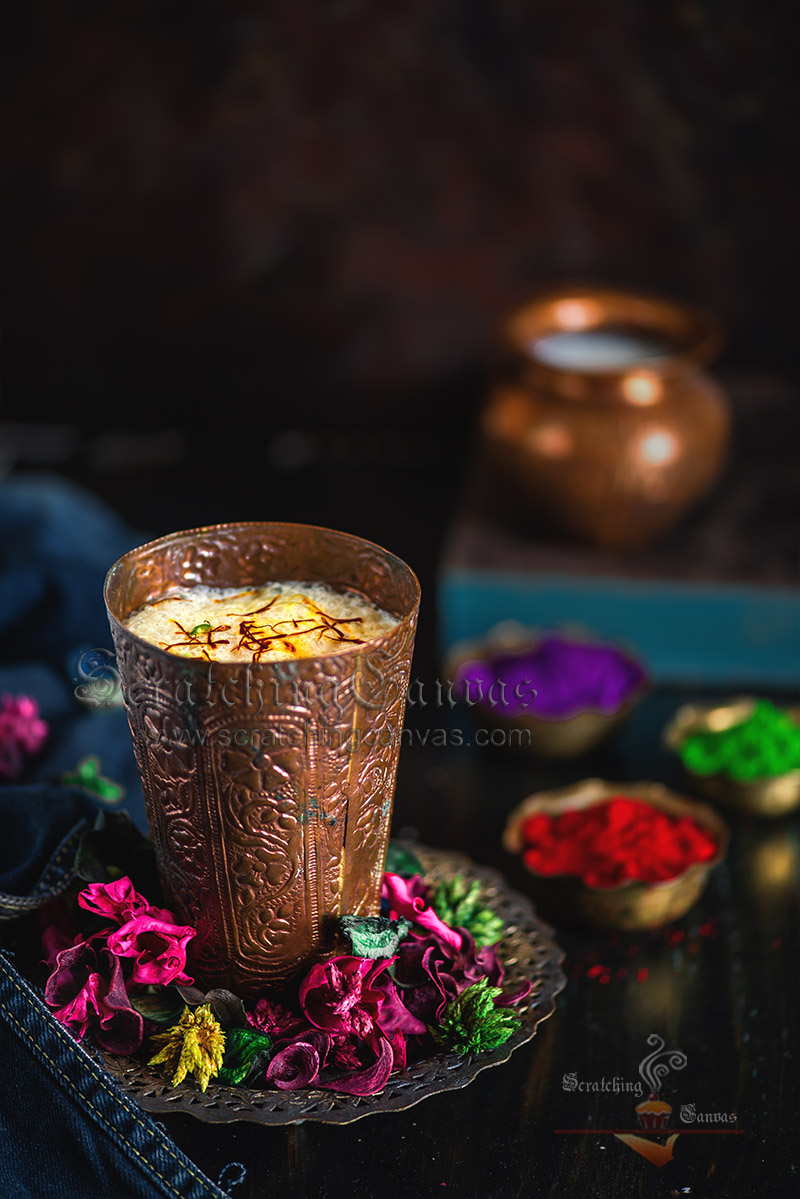 Every year I prepare thandai with few gujiya or karanji and snacks beforehand so that I can celebrate Holi without any disturbance. Baked Mawa Gujiya and Baked Moong Dal Karanji with Moong Dal Laddu has become quite regular in my home. They are easy to make and quite healthy due to less usage of oil or ghee. But this sardai drink I only make before Holi, not on any other occasion. I usually follow the traditional Thandai recipe. It requires little bit of preparation like soaking nuts and spices overnight and boiling milk with spices for quite a time but the effort is worth the taste.
This year I'm running late (rather out of time would be more appropriate as Holi is tomorrow!) due to some other emergency agenda. So I quickly made Thandai powder or Spice mix and stored it. Traditionally mortar pestle is used to make the spice mix but I used my grinder to make dry powder. it's more convenient to use according to need. All I need to do is mix the Thandai Masala Mix in my milk, add few cubes of ice and Instant Thandai is ready to enjoy. A piece of cake, right?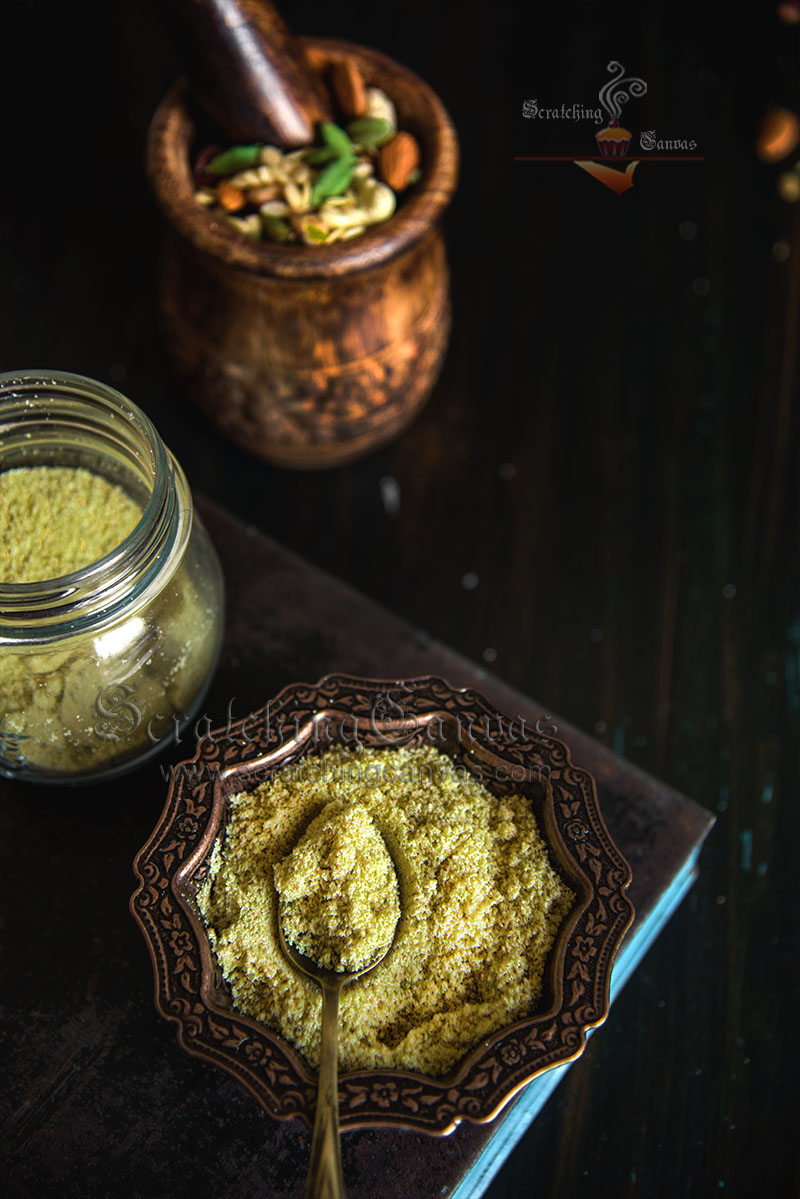 Watch my elaborated step by step video recipe of Thandai Powder Spice Mix.
Read the entire recipe and Notes carefully before you start cooking. Do make sure all ingredients are at room temperature (unless mentioned) and weighed or measured correctly in appropriate weighing machine or measuring instruments such as cups or spoons. Remember these are not regular cups or spoons which is used in daily life.
Serving & Storage:
Mix 2 tbsp of Thandai Spice mix in 200 ml of milk and refrigerate to chill (I used my almond milk). Garnish Instant Thandai with saffron strands & chopped pistachio. Serve chilled with ice cubes. Complete your Holi special snack tray with Baked Mawa Gujiya/Karanji and Baked Moong Dal Gujiya with it.
Thandai Masala mix will be good upto 2 months at room temperature if stored in airtight container. No need to refrigeration at all. Just use clean and dry spoons whenever you need and close the lid tightly.
Thandai Powder | Thandai Masala | Instant Thandai Recipe
Thandai or Sardai is Holi special Indian Beverage.
Ingredients
Almond, chopped: ¼ cup or 35g
Pistachio, chopped: ¼ cup or 30g
Cashew nuts, chopped: 2 tbsp or 6g
Melon seeds: 2 tbsp
Poppy seeds: 2 tbsp
Fennel seeds: 2 tbsp
White peppercorn: 2 tsp
Green cardamom: 2 tbsp
Nutmeg: ½ tsp
White Sugar, granulated: ½ cup or 100g
Instructions
Make sure all the ingredients are dry and at room temperature.
Take a clean and dry mixer/blender or coffee grinder.
Put all the ingredients in the grinder and make fine powder.
Place a sieve on a clean dry bowl and sift the Thandai powder mix.
Grind the remaining large chunks again and follow the same until everything is grinded into fine powder.
More Holi Special Recipes 
http://www.scratchingcanvas.com/holi-recipes/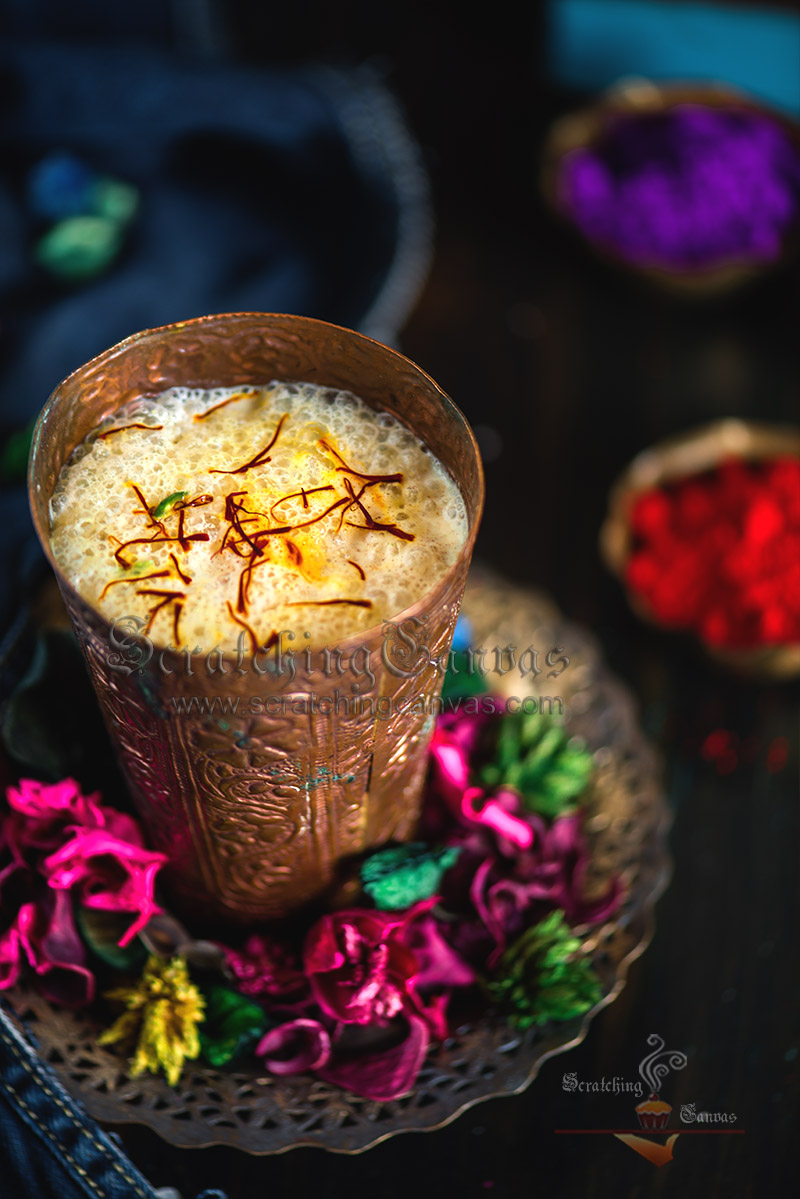 EAT, LOVE & ENJOY! REPEAT!!!